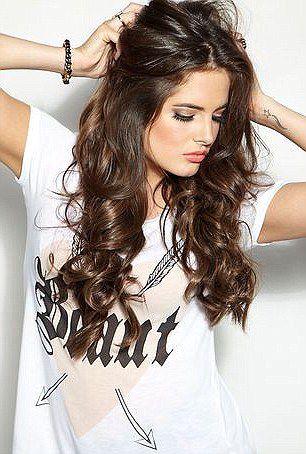 (I couldn't write this in any perspective but hers..seriously, she is practically indescribable.)
If you hadn't figured it out already, my name's Amaya Desouza. 6th year, 17 years old, in Slytherin. I've got these creepy pale grey eyes and the slim figure girls die for. -pauses- Why does this feel like I'm setting up a dating profile..?
I suppose there's only one thing you should know about me: screw me over and multiple knives will be sailing happily into that pea-sized brain of yours.
Thing is, I'm not sweet or kind like my sisters are. I'm blunt and to the point; I ain't gonna take any of your crap. If you're weeping over something trivial and mundane, find someone else's shoulder to cry on. However, if you want a drinking buddy or a partner in violence/crime, I got your back. I've got a good sense of humour; it's dry and sarcastic, just like i am!
Not a fan of my bluntness? ... you know where the Hogwarts Express is. -smiles sweetly-
Yeah, i'm pretty difficult to handle sometimes (understatement of the year), It comes with being raised by the douchebag known as John Abonacci. He was a renowned mobster with 8 kids. 8 FREAKING KIDS. God we were raised like sheep, groomed for our "potential". Eugh.
In short I snapped his neck. Best moment of my life.
Maybe I should mention the fact I'm a werewolf too. This makes me stronger than most people and my sense of smell's pretty accurate as well. The catch is that every full moon i have to skulk out to the forest and break most of my bones. It's a.... wonderful feeling. -represses a shiver-
Some people know this by now, but I'm ruthless when push comes to shove. If you piss me off, don't think I won't hesitate to grab a knife and slice you with it. I'm handy with a dagger, always have been and always will be. On top of all of this, i managed to pick up the ability to copy myself from a guy called Lukas. I don't use it often, but i can be my own fucking army.
All this power comes with great responsibility and I always use it wisely
. pfft.
It probably doesn't help my cause that I don't care about much (do NOT even get me started on relationships..) I walk on both sides of the moral fence, because life is too freaking boring otherwise. Sure, it puts me in harm's way, but admittedly danger is tempting, almost intoxicating...
Simply put: I'm unpredictable, volatile, and it's damn well stayin' that way. Don't waste your time trying to second guess me.
I think I'm done here. -throws quill on floor and strolls away-