OOC Thanks for the great idea Mer!

Creatures:
Salamanders: 
Chance of Encounter: Common
Homeland: Diarmidian Wasteland
Abilities: Firebreath, Durability, Cheetah Speed, Strong Senses
Domesticable: Yes, but should only be handled by professionals
By far the most common threat in the wasteland, these savage lizards can grow up to about 7 feet in length though there have been larger ones found. Usually forming packs of three or more, they hunt down anything in the wasteland that can sustain them. Fortunately for the Salamanders, they can drink lava for refreshment and to stave off hunger. Their natural toughness and speed give them a distinct advantage to most creatures in surviving in the unforgiving wastelands. 
They seem to have a rather uncanny connection to the earth, able to feel tectonic activity that would go unnoticed by a human and can smell when a volcano is about to erupt. 
Luckily, techniques have been created by Diarmid to train these beasts into riding animals and a lucrative business exists in renting trained salamanders to those travelling to Diarmid to cut down on the time and danger in travelling. The Diarmidian army has even employed them in combat to blast balls of fire at their foes.
They're also shown to be incredibly loyal to their pack/owners once properly trained, defending them whenever threatened. However improper training or attempting to ride a wild one has almost always resulted in death or serious injury.
Ifirts: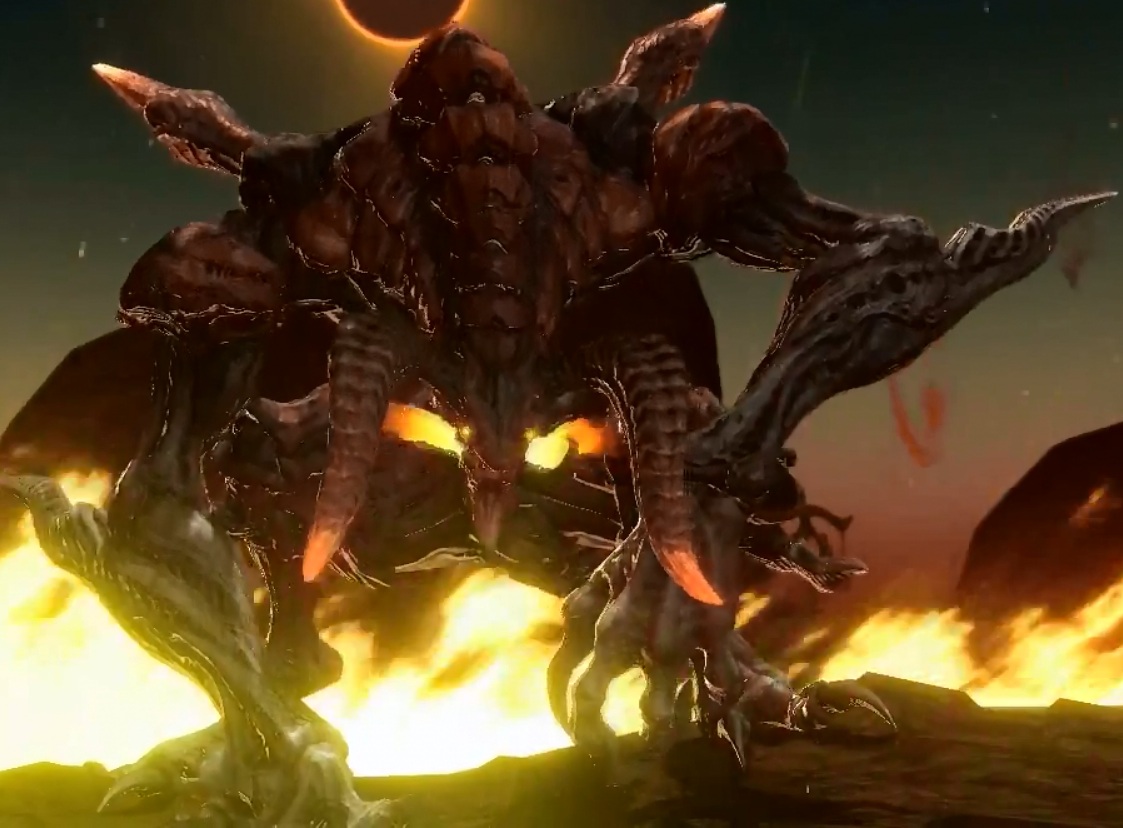 Chance of Encounter: Rare
Homeland: Diarmidian Wasteland
Ability: Herculean Strength, Fire Manipulation
Domesticable: Hasn't been attempted but thought impossible
Growing to about 30 feet tall, Ifrits are an apex predator of the wastelands. They are usually found inside of giant pools of lava and will surface to devour a traveler or salamander who comes too close to its territory. While they aren't a common threat, they're certainly a serious one. There has never been a single survivor from an Ifrit attack. 
It's usual methods of hunting have been to ignite their prey directly with pyrokinesis, or simply crushing them with their massive claws. The best course of action if one encounters an Ifrit is to run fast and far and hope they get lucky. 
Ra
Chance of Encounter: Nonexistent* (*believed to be legend)
Homeland: Diarmidian Wasteland
Ability: Unknown
Domesticable: Unknown
Several travellers heading to Diarmid have claimed to have caught sight of a half-bird-half-man creature. While most have blamed these sightings on hysteria from the trip, some believe one actually exists if not more. Until further confirmation, they are merely a myth passed down through the generations as servants of the Watcher of the Well.
History:
The first group of Diarmidians were a group of gladiators who fought for the amusement of a treacherous king. Disgusted with his strength being wasted as a mere spectacle for such a cowardly man, a magical warrior named Ríalanna assembled his fellow gladiators and made a plan to stage a revolt. At first they were hesitant, but one fighter named Deocroa who was without magic invigorated them into siding with Ríalanna. As they were taken out to the arena to kill each other, they put his plan into motion, charging the stands to try and kill the king. 
At first their plan seemed to be working, but were unable to slay him and were overpowered by the more well nourished guards and forced into exile in the wastelands. 
Ríalanna assumed leadership of his contemporaries with Deocroa as his second in command, establishing the precedent for two emperors. They led the warriors further and further into the wasteland for 5 years. They fought and bled without end to survive, but somehow they made it without a single death. 
Impressed by this, the Watcher of the Well descended upon them telling them that they have earned a place by her side in Alagor. She stabbed her mighty spear into the ground and the earth rumbled, spewing forth a new source of water in this barren terrain that would run far past their lifetimes. The warriors were overcome with gratitude that they could now live in comfort along with their children. She also told them her disdain over their treatment at the hands of their king and gave them a sacred decree, "Go forth, thrive, become the greatest warriors in all the realms as you deserve. When you are ready, face your oppressors. Show them the superiority of your power, your sustainability and your honor over their frailty, cowardice and disgrace!" She vanished soon after she gave her command, 
They got to work right away, building a small establishment around their well. They named their new civilization Diarmid, meaning 'Without Envy' to establish their purpose to become the strongest people in all the lands. They spent the remainder of their lives honing their skills in combat and magic, instructing their child in their new ways, and letting them improve upon them. Several years later, the newly minted Diarmidian Brigade descended upon their old king and decimated him and his kingdom. Decades of struggle and training had at last been rewarded, and the Watcher was pleased with her new Chosen People.
It took several centuries, but finally, Diarmid rose to become one of the superpowers of the realms that it is today. 
Diarmidian Religion: 
Watcher of the Well
The sons and daughters of Diarmid worship only a single goddess called 'The Watcher of the Well.' In essence she is a goddess who looks after warriors who have proved their worth in life. She was the one who gave the Diarmidian Exiles their Sacred Well which allowed them to survive and prosper. Grateful for this, she became the center of Diarmidian religion and much of their lives are committed to proving their valor to her.
Should a warrior die in honorable combat or facing insurmountable odds, the Watcher is said to visit the warrior's tomb and fill their mouths with sacred water which gives them access to Alagor, their version of Heaven or Valhalla. Therefore, it is considered disrespectful to close a corpse's mouth after death and is only done for cowards and traitors. In Alagor, which is said to exist in the water from the Well and only accessible by the dead, they join with the Valiant Dead to rejoice with the heroes and heroines of the ages and help the Watcher defend the well. 
Diamridian Religion has three core tenets: Power, Sustainability, and Honor. It's explained how each flows into the other in this analogy:
'Power is fire. Sustainability is Water. Fire can only consume by itself, Water can only be stagnant by itself. Only together can the two create Honor, which is steam and raises above both.'
Another goal of their beliefs is to rise to be the Ríalanna, (Gaelic for 'King of Blades'). The Ríalanna is said to be one who embodies the pinnacle of all the Watcher's tenets and becomes the perfect warrior. Ríalanna was the name of the first exile who fought against his masters and has been revered by the Diarmidians to the point of a title was made in his honor. For centuries warriors of Diarmid have struggled to try and rise to this legendary position but none have succeeded. But this won't stop others from trying...